Gear Inspection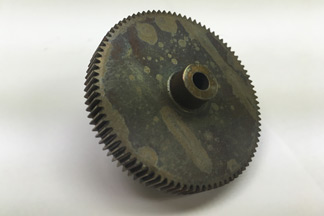 Project description: Gauge and Visually Inspect
At Penn Metal Stamping, Inc., we devote a lot of square footage in our facility to our test and inspection area. It is filled with a large inventory of up-to-date metrology equipment and staffed by a strong team of trained professionals. With our ISO certification and high-quality ratings, we have a growing number of customers who leverage our 3rd-party inspection capabilities to implement their Safe Launch Programs.
One of our clients in the region contracted with us to gauge and visually inspect the gear highlighted in the photograph shown here. The purpose of the Safe Launch inspection was to validate for their automotive industry customer that their processes had the stability to produce a very high rate of conforming product. By collecting and analyzing inspection data, we could help our client pinpoint areas where adjustment might be needed.
Following our robust set of protocols, we used a variety of gauging methods and high-resolution micrometer measurement to document product quality. We compared these to the drawings to validate that all dimensional aspects of this gear, which measured 2.0" in diameter, were within the specified ±.0015" tolerances.
Since test and inspection tasks take place as projects are approaching the finish line, timeliness is always of utmost importance. Despite the high volume of product, we were able to process the inspection and prepare the documentation within one day. Our prompt turnaround allowed the client to meet their internal deadlines and obligations to their customer. Our highly rated performance on this project has led to additional business from this client.
If you are interested in learning more about our 3rd party inspection capabilities, contact us today.
Project Specifications
Project Name & Description

Gear Inspection
Capabilities Applied/Processes

Gauging
Visual Inspection
Equipment Used to Manufacture Part

Gauges
Micrometer
Overall Part Dimensions

2" DIA
Tightest Tolerances

±.0015"
Industry for Use

Automotive
In Process Testing/Inspection Performed

None
Volume

High
Delivery/Turnaround Time

1 day
Delivery Location

Pennsylvania
Standards Met

ISO