Helical Gear Assembly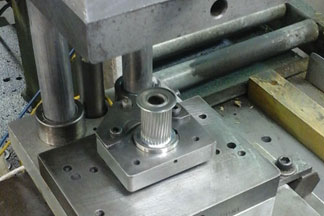 The helical gear assembly highlighted on this page was produced completely here at Penn Metal Stamping, Inc. For this project, the client supplied the pulley while we were responsible for manufacturing the flanges and assembling the final product.
We stamped the flanges from carbon steel, which provided the high strength properties required while being ductile enough to be reformed during assembly without losing its toughness. Assembly involved joining one of these steel flanges to each end of the supplied helical pulley gear, which was manufactured from powdered metal. Our engineers developed a method to do this using innovative tooling and a material displacement process on the assembly press. This swaging process allowed us to alter the diameter just enough to form a permanent fit of the metal components. We used an advanced technology control and monitoring system on the assembly press to ensure that the stroke forces were consistent over the entire production run and from lot to lot.
Once we assembled the components, further quality assurance involved various inspections to ensure tolerances were within ±.002". We also physically pulled apart samples of the finished product to measure the forces needed to break the strength of the bond. This destructive-type testing gave the client confidence that the products would perform as intended and avoid the possibility of in-field failures. Prior to shipment, we applied a dry-to-the-touch rust inhibitor to protect them during transport and storage.
We produce these parts at the rate of 700,000 per year, in batches that we turn around on a two-day basis, and the client has since rewarded us with additional business.
For more information on this project or our production capabilities, contact us today.
Project Specifications
Project Name & Description

Assemble two steel flanges to end of helical pulley gear through the material displacement process.
Capabilities Applied/Processes

Material displacement
Equipment Used to Manufacture Part

Various Presses
Overall Part Dimensions

2.00" x ½" MA x OD
Tightest Tolerances

±.002"
Material Used

1020 CRS
Material Finish

Dry-to-touch rust inhibitor
Industry for Use

Automotive
In Process Testing/Inspection Performed

Pull-off force testing
Volume

700,000/year
Delivery/Turnaround Time

1 to 2 days
Delivery Location

Pennsylvania
Standards Met

ISO