Grounding Strap Assembly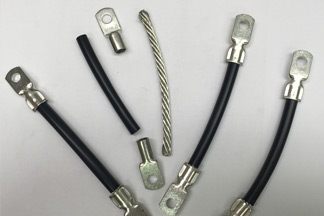 Project description: Grounding Strap used in railroad application
With our depth of expertise and efficient methods for product manufacturing and assembly, Penn Metal Stamping, Inc. provides cost-conscious solutions that effectively compete with prices from offshore vendors. Also, by being in close proximity to a client, we can easily collaborate with their internal teams on design issues. We are often able to make recommendations that improve quality and manufacturability while significantly trimming production timelines.
The railroad grounding strap shown here consists of two stamped metal terminals, tin plated copper wire braided cable, and black tubular insulation. While reviewing the drawing, we identified that altering a few design elements would improve the overall quality of the product while facilitating manufacturing and assembly. The client was very pleased with our recommendations and price so they awarded us the contract.
Production involved several coordinated process flows. Along with cutting the wire and insulation to size, we proceeded with the tooling and stamping of the metal terminals. The manufactured components converged into the assembly area, where our press operators joined the four pieces into a finished ground strap assembly measuring 5.0" in length. In addition to in-process inspection of the individual parts, we pull-tested the finished straps to ensure their strength and functional integrity.
One extremely favorable aspect for the client was the short amount of time it took us to complete this project. Our comprehensive capabilities allowed us to deliver a moderate volume of product to them within a one-week turnaround, substantially faster than an overseas vendor would have accomplished. The client was very impressed with the results, and we were pleased to acquire a new and satisfied client.
If you are interested in learning more about this project or any of our industrial capabilities, contact us directly.
Project Specifications
Project Name & Description

Ground Strap
Capabilities Applied/Processes

Joining 4 components to create ground strap
Equipment Used to Manufacture Part

Wire cutting
Insulation cutting

Stamping Press
Assembly Press
Overall Part Dimensions

5"
Tightest Tolerances

± .005"
Material Used

Various
Industry for Use

Rail Road
In Process Testing/Inspection Performed

Pull Testing
Volume

Medium
Delivery/Turnaround Time

1 week
Delivery Location

Pennsylvania
Standards Met

ISO