Third Party Inspection Services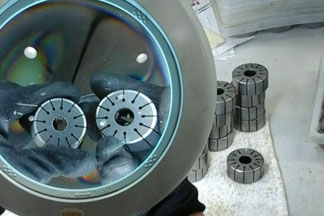 Since our inception, quality management has been a primary focus here at Penn Metal Stamping, Inc. We have made a significant investment in latest technology test and measurement equipment as well as staff education and training. Our quality technicians have all the necessary skills to perform in-depth 3rd-party part inspections to ensure products meet specifications as well as industry and regulatory standards.
Our quality assurance professionals use visual inspections, multiple gauging methods, CMM measurement, destructive and non-destructive test methods, and much more to ensure products conform to specification. To eliminate risk associated with new or changed products, we are capable of performing Safe Launch Inspections. In addition to verifying product and process stability, we evaluate and document product quality in terms of form, fit, and functionality. We have developed robust and systematic methods for conducting and documenting First Article Inspections compliant with SAE AS9102A.
Our 3rd party inspection services can play an important role for your company. Robust procedures, trained staff, and cutting-edge equipment ensure the highest level of accuracy in our data. Our technical competencies cover a broad range of test and inspection procedures to supplement your own in-house QA/QC capabilities. By working together, we help you achieve confidence that your processes are stable, and your products consistently conform to specifications, promoting your reputation as a high-quality component supplier.
Whether you need QA assistance for a new product launch or a 3rd-party vendor to assist with spikes in volume, we provide accurate, timely, and cost-effective inspection services to fulfill your needs. Contact us today to learn more.
Capability Specifications
General Capabilities

In-House
Parts
Rework

Safe Launch Inspections
Special Packaging
Inspection Characteristics and Properties

Containment
Dimensional
Flatness
Parallel

Torque Testing
Push Off Force Testing
Visual
Inspection Method

CMM Coordinate Measuring Machines (CMM) are mechanical systems designed to move a measuring probe to determine coordinates of points on a work piece surface.
Eddy Current
First Article
Defines the activities for first article inspection ( FAI ) that is compliant with SAE AS9102A. Prime contractor requirements of the AS9102 first article inspection procedure ( FAI ) to Suppliers that have design authority.

Gages
Laser
Parts Sorting
Visual
Additional Information
Industry Focus

Aerospace
Agricultural
Automotive
Appliance
Communications
Construction
Electrical

Electronics
Furniture
Medical
Military
Semiconductor
Telecommunications
Industry Standards

ANSI American National Standards Institute
AS Aerospace Industry Standard
ASME American Society of Mechanical Engineers
ASQC
ASTM American Society for Testing and Materials
AWS American Welding Society
CE The CE mark (officially CE marking) is a mandatory conformity mark on many products placed on the single market in the European Economic Area (EEA).
CSA Canadian Standards Association
DOT Department of Transportation
FAA Federal Aviation Administration
FDA Food And Drug Administration
IEC International Electrotechnical Commission
ISO International Organization for Standardization
Mil-Spec Military Specifications
NADCAP National Aerospace And Defense Contractors Accreditation Program
NASA
QS QS Is a quality standard developed by the Automotive Industries.
RoHS Restriction Of Hazardous Substances (Compliant)
SAE Society of Automotive Engineers
TS Technical Specifications, used with ISO